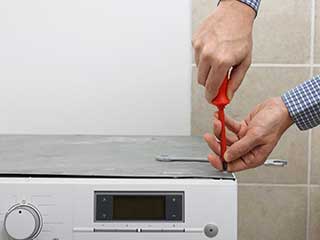 Many Simi Valley residents have to put up with electrical problems at their homes from time to time. From fuse boxes shorting out to ceiling fans failing and refrigerators breaking down, there's a lot that can go wrong. That's why Best Simi Valley Electrician offers you a same-day solution, 7-days a week. Thanks to our highly-experienced Simi Valley electricians, we can provide fast and reliable solutions for any appliance and wiring issues you might face. We also have an emergency electrical repairs service for urgent problems that can't wait. Coupled with this, our wide range of home electrical repairs allows us to tackle the enormous variety of faults home and business owners can encounter. Our low prices make us the best electrical repair company in the area. Our commitment to excellence bolsters that.
Low-Cost Emergency Electrician Services
We know that some problems just have to be taken care of. Many electrical problems can be very dangerous, leading to fire and electrocution hazards. We believe that every homeowner should have access to fast, reliable home electrical repairs whenever they need them. That's why our prices for emergency electrical repair services are so low. Our team is based close by, so when you call us we can be with you as quickly as possible. When you smell burning plastic, or your lights start flickering, just contact us as soon as you can.
Electrical Appliance Repairs In Simi Valley
No modern home is without a range of general appliances. Whether it's electrical outlets, smoke detectors or ovens and stoves. These home appliances can be extremely important to your day-to-day life. It's very difficult to go without a working refrigerator or washing machine, for example. When you have problems with these appliances, or with your microwave or stove, talk to us. Our team specializes in electrical appliance repairs, and we can get any device or equipment back up and running quickly. That means you'll never have to worry about dealing with a faulty oven when you're having guests around to stay, or scheduling electrical recliner repairs. Simply call our locally-based team of electrical contractors, and we'll have the problem taken care of in no time.
Home Electrical Wiring Issues
Not all homes have totally reliable wiring. Many older homes require electrical wire repairs from time to time. Besides, homeowners sometimes carry out DIY repairs that aren't up to code. We provide full electrical repair services to keep your home safe no matter what. Avoid the risk of fire and electrocution that comes with low-quality wiring work. For electrical wire repairs close to you, never accept any less than the best. Contact Best Simi Valley Electrician for a speedy solution any day of the week.
Local Electricians Near Simi Valley
There's never a good time to need electrical repair services. However, with access to fast, cheap and reliable services from the top LA electricians near you, you can be sure the problem won't take long to solve. We have a highly-experienced team of electricians ready and waiting to solve any issue. For any major or minor problem you have, we're the team to call for the fastest, most reliable solution. Give our Simi Valley electricians a call day or night to get any problem fixed ASAP.