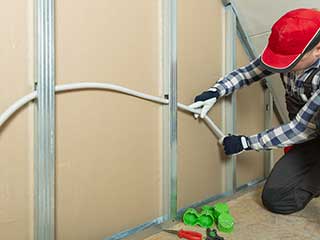 A good team of electricians is so hard to find, at least for a reasonable price. For residents of the area near Simi Valley, things are much easier! Our electrical installation services include everything from lighting installation to replacing wiring, outlets, and appliances. And we offer them at bargain prices! Our electrician contractors can help you add new electrical outlets, appliances, light switches and more to any part of your local business or home.
Simi Valley Electrical Installation Professionals
We all know the frustration of electrical failure. A stripped wire coating or a bad circuit breaker can be much worse than frustrating! Our team of Simi Valley electricians has years of experience with every branch of installation, repair, and troubleshooting for wiring and appliances. Building or remodeling a property? We can set up its initial electrical installation, including circuit breakers, light fixtures, and outlets. Is a light not working, or an outlet making the circuit breaker flick shut when you try to use it? Our electricians can replace the entire circuit if needed! Just tell us about your problem, and we'll be there at your soonest convenience with all the tools we'll need.
Lighting Installation And Troubleshooting
Light fixtures need to go on circuit extensions, so placing those is very important. The light switches and dimmers that control these lights also need to be along the wire. Putting in new lights and switches can be a very simple electrical installation task, or a very complicated one. It depends on whether we'll need to replace or reroute the circuit extensions themselves. Another of our electricians' specialties is dimmer installation. Replace your plain old light switches with some dimmers, and get luxurious variable lighting just like that! It's much cheaper than many people realize, and really goes to show what some simple electrical installation work can do for you!
Our Local Electricians Know Safety
The local fire code is strict, and for very good reason! With our dry climate and strong sun, it's all too easy for a tiny fire to grow and spread before anyone can react! Many house fires are caused by old or faulty electrical installation, which means they're preventable with vigilance and skilled work! If your electrical panel sparks or your circuit breakers are stuck, get some Simi Valley electricians over ASAP! You should also look into some electrical installation and repair services in the very near future if you've had fire or water damage to the building. If some of the circuits lost their insulation, you could have an even worse disaster coming! Your safety is of the greatest importance, and we balance our reputation on it.
Fire Alarm & Smoke Detector Installation
On the topic of safety, your household fire alarms and smoke detectors are also part of the built-in home electrical system. Our electricians can install, repair, and replace any part of your fire detection and warning network. It's a good idea to test each of your smoke alarms from time to time, and call out for the nearest Simi Valley electrical installation professionals if one doesn't work. Making sure you have a, pardon the pun, surefire way to detect and deal with fires in time is absolutely vital. That's why our electrical services include adding smoke detectors and fire alarms to residential and commercial properties.
Installing Carbon Monoxide Detectors
Do you use any gas-based appliances, like stoves or heating? If you do, you should have carbon monoxide detectors throughout the building, especially if there are children or elderly around! The electrical installation process behind carbon monoxide detectors is very similar to a smoke detector's setup process. This odorless, colorless gas can't be detected by human senses, so get some electricians over if you lack working detectors!
Electrical Wiring & Installation In Simi Valley
From adding outdoor lighting fixtures to your patio to replacing or relocating fuse boxes and electrical outlets. The professionals here at Best Simi Valley Electrician are at your service 7-days a week. If you need electrical installation services somewhere near the Simi Valley area, give us a call. Don't wait for things to get dangerous. Do let professionals handle all your electrical installation service needs. Tell us what sort of work you need and get a free estimate.